Care set
Cleaning and care set for fully automatic coffee machines
00311965
Replacement of 00570350 00576330 00570351 00576331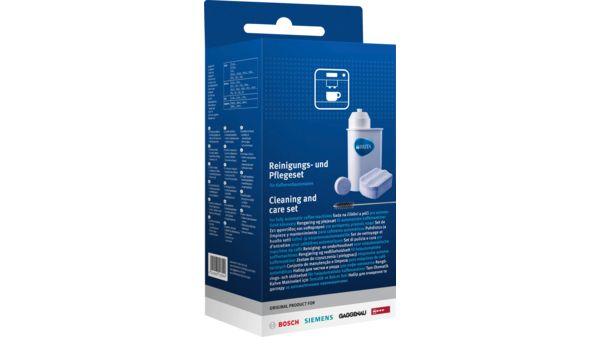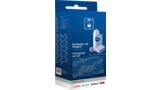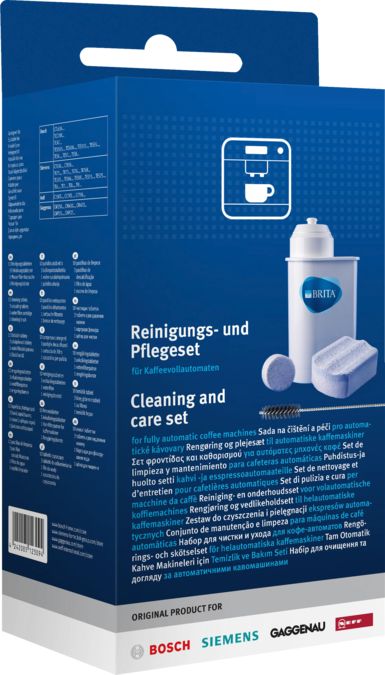 ---
Contents: 10 cleaning tablets, 3 descaling tablets (36g), 1 water filter cartridge,  1 cleaning brush
The descaling tablets remove limescale, the cleaning tablets remove any residues or clogging caused by coffee grease powerfully, fast and reliably.
The water filter protects from limescale residue and thus, extends the lifetime of the appliance.
Suitable for Bosch: CTL636..., TCC78K..., TCA7..., TES503..., TES506..., TES515..., TES55…, TES6…, TES7…, TES8…
Suitable for Siemens: CT636..., CT836..., TK76..., TE503..., TE506..., TE509..., TE515..., TE525..., TE6..., TE7..., TE8..., TI9..., TK71..., TK73..
See less
Technical Specifications
Technical Specifications
Contents: 10 cleaning tablets, 3 descaling tablets (36g), 1 water filter cartridge,  1 cleaning brush
The descaling tablets remove limescale, the cleaning tablets remove any residues or clogging caused by coffee grease powerfully, fast and reliably.
The water filter protects from limescale residue and thus, extends the lifetime of the appliance.
Suitable for Bosch: CTL636..., TCC78K..., TCA7..., TES503..., TES506..., TES515..., TES55…, TES6…, TES7…, TES8…
Suitable for Siemens: CT636..., CT836..., TK76..., TE503..., TE506..., TE509..., TE515..., TE525..., TE6..., TE7..., TE8..., TI9..., TK71..., TK73..
Suitable for Neff: C15KS..., C17KS..., C77V6...
Suitable for Neff: C15KS..., C17KS..., C77V6...
Suitable for Gaggenau: CM250…, CM450…, CM470…, CMP25…, CMP27…