Get closer to your dream kitchen.
The kitchen is the heart of your home. Bosch Kitchen Design Ideas help you plan your dream kitchen.
Because shopping is tough enough, putting things into our fridge-freezers is really easy.
If you need to take food from the freezer fairly often, we recommend a fridge-freezer with the freezer at the top. That means that the freezer section is always conveniently at eye level.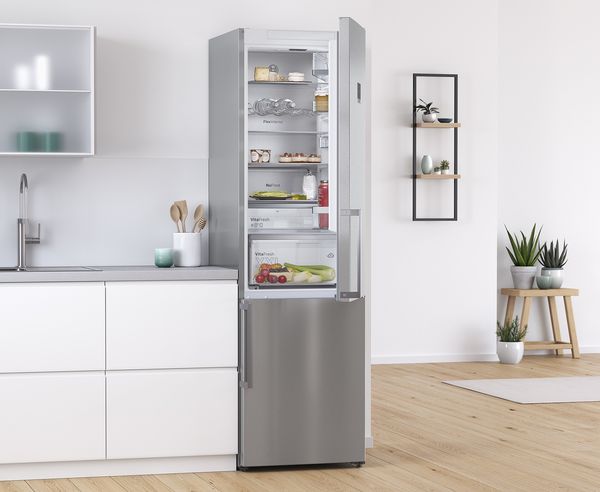 A good fridge should contain plenty of fresh food and the finest Bosch engineering.
Contemporary design with maximum convenience to meet the demands of today's modern lifestyle. Improved air circulation with MultiAirFlow, intelligent sensors that monitor temperature and deliver the optimal cooling performance, combined with SuperCooling and SuperFreezing functionality, plus convenient electronic controls - that's the refrigeration range from Bosch.
Built-in fridge-freezers with freezer at the bottom: freshness just above freezing.
Our built-in fridge-freezers come with all the comfort and necessities of a modern cooling solution: they fit seamlessly into every kitchen design and offer you at the same time maximum comfort. You can remove chilled food without bending down. The lower part contains a spacious freezer section.
Filled with our best ideas, with lots of extra space for your foods.
The interior design of our fridges and freezers offers you freedom, a clear view and easy filling and emptying. If you need more height, for example, for a large gateau, flexible shelving allows you to create the space you need. A divided glass shelf can simply be pushed back a bit or removed completely. The shelves are easy to reach, which makes placing the food inside a real pleasure, because they can be pulled right out. That means that even the jam jar right at the back is always easy to reach.