Powerful performance, classic design.
Wall-mounted canopy rangehoods are available in various design options. Mounted above the cooktop, a canopy rangehood can be the focal point of your kitchen.
For those who don't want to see or hear anything about rangehoods.
Slideout rangehoods are installed into a wall unit. To operate them, the slideout section is pulled out, enlarging the extraction surface. With many rangehoods of this type, the pelmet front can even be matched to your kitchen units. So this rangehood will be almost invisible in your kitchen.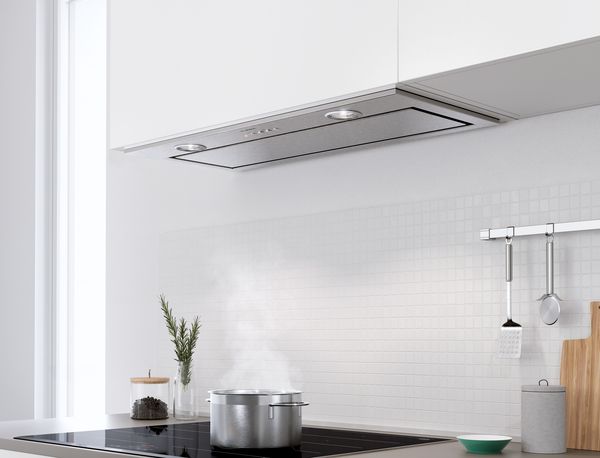 Great performance in a tiny space: introducing the Bosch integrated rangehood.
Neatly consealed rangehoods, they are housed underneath the kitchen unit and can be seen if you look underneath the kitchen cabinetry.
Go on, accuse us of being perfectionists. We've worked hard enough for it.
To make sure that our ranghoods are really rust-proof, we spray them with a fine brine mist for 24 hours. If they survive that, we heat dodecanoic acid under the hoods – to the point that clouds of smoke are produced. If the thick smoke clears in a short time to leave pure, clean air, the rangehood can really claim to be "Bosch in every detail", and you can safely take it home with you.
Direct cooktop to rangehood connectivity for convenient control.
Cooking is more convenient when your appliances can directly communicate. Connected via wireless module, your hood automatically turns on when the cooktop is switched on – perfect if you often find yourself forgetting to turn it on until odours start filling the kitchen. Power levels and lighting on your hood can also be controlled via the cooktop, without the need for a wi-fi network.
Satisfied customers are our best reference.
Easy Install and perfect fit
Replace 19 year old unit. Fitted perfectly into the old space. Some different attachments but overall excellent fit and product.
Superb rangehood
Super quiet and great extraction looks good plus lights are nice and bright too
Purchase review
Everthing is satisfactory, from purchase, delivery and installation.
Looks good and works well
I'm really happy with our new rangehood. It's a nice upgrade over the original. The stainless steel front panel looks classy and fits well with the rest of our kitchen. It can be a bit noisy on higher fan speeds but is reasonably quiet on the lowest speed which adequte for in most circumstances. Filters are a little fiddly to remove the first time. After you've done it once or twice the process is straightforward. The one thing I'd change is to make the light function in a similar way to the fan. The fan operates at the last speed you selected when you pull the rangehood out. It would be great if the light came on automatically when you pull the rangehood out and turned off when pushed back in (with the option of using the switch to change the operation). Not a big deal but would simplify operation. Would buy again.
Great design and super quiet
Fantastic design, very quiet and well lit. Could be easier to clean though