Powerful performance, classic design.
Wall-mounted canopy rangehoods are available in various design options. Mounted above the cooktop, a canopy rangehood can be the focal point of your kitchen.
For those who don't want to see or hear anything about rangehoods.
Slideout rangehoods are installed into a wall unit. To operate them, the slideout section is pulled out, enlarging the extraction surface. With many rangehoods of this type, the pelmet front can even be matched to your kitchen units. So this rangehood will be almost invisible in your kitchen.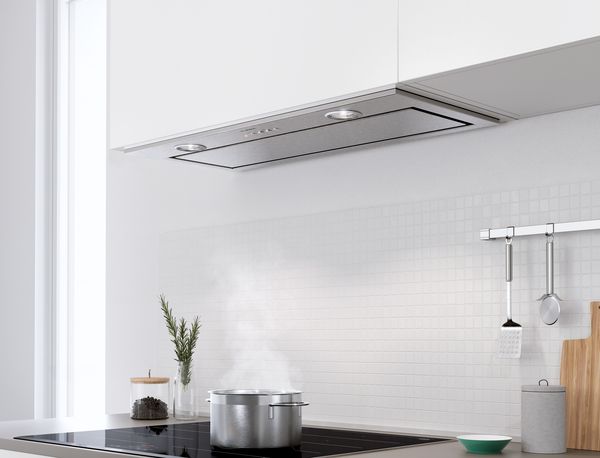 Great performance in a tiny space: introducing the Bosch integrated rangehood.
Neatly consealed rangehoods, they are housed underneath the kitchen unit and can be seen if you look underneath the kitchen cabinetry.
Go on, accuse us of being perfectionists. We've worked hard enough for it.
To make sure that our ranghoods are really rust-proof, we spray them with a fine brine mist for 24 hours. If they survive that, we heat dodecanoic acid under the hoods – to the point that clouds of smoke are produced. If the thick smoke clears in a short time to leave pure, clean air, the rangehood can really claim to be "Bosch in every detail", and you can safely take it home with you.