Getting more out of your dishwasher can be as simple as acquiring a handful of dishwasher accessories. From spray heads to bottle holders, accessories can drastically improve your dishwasher's performance and free you from the mundane task of hand-washing your more delicate kitchenwares.
The specific accessories to get will depend on your personal cleaning needs. However, here are our picks of the crop!
Overseas models may be shown. Please check your product specifications for the accessories available for your dishwasher.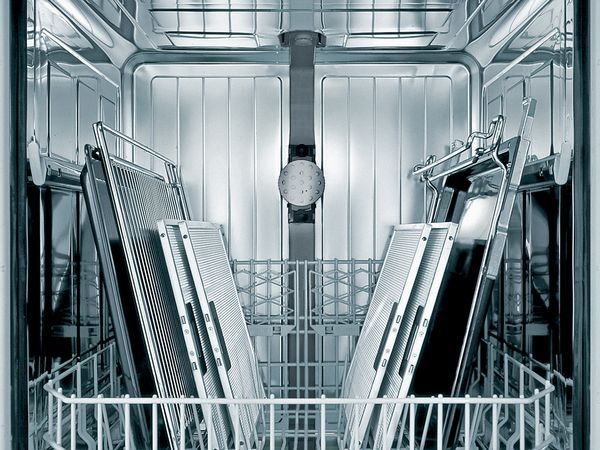 1. Baking Spray Head
We all know how painful scrubbing down our trays and pans can be after a round of baking. Trying to get all of the stains off them can sometimes even work up a sweat! Thankfully, baking spray heads take the tedious work out of the equation. Perfect for washing large items such as baking trays, grill racks and even fridge shelves, baking spray heads can be easily attached to the dishwasher to provide powerful jets of water to get rid of stubborn food particles and grease.
2. Glass Secure Tray
Take the stress out of washing up after a sip of wine or bubbly by using a GlassSecure Tray . These trays sit in the dishwasher baskets and are able to hold up to 4 wine or champagne glasses securely during the dishwashing process. if you need to clean more than four glasses in one cycle, you can always clip in traditional trays to expand your glass-washing capabilities. As a guide, 45cm dishwashers can hold up to 2 trays (8 glasses) while 60cm dishwashers can hold up to 4 trays (16 glasses).
3. Baby Bottle Clip
These baby bottle clips come in packs of three and make cleaning baby bottles a cinch! Use them to keep your small bottle parts like bottle nipples, lids and cups secure during the wash for a thorough clean. However, there are a few important things to be mindful of when washing baby bottles in the dishwasher. Firstly, leave out your dishwasher unless it is made of glass or dishwasher-safe plastic. Secondly, while dishwashers clean items, they do not sterilise them.
4. Bottle Holder
A good quality bottle holder is an incredibly simple yet functional device that fixes all your bottles and small plastic containers firmly in the bottom basket. This way, they'll stay secure even in the most powerful of dishwasher programmes.
5. Silver Polishing Cassette
Contrary to popular belief, silverware can actually be safely washed in a dishwasher if you place it in a silver polishing cassette . These aluminum cartridges protect your silver cutlery from both corrosion and tarnishing, and can be easily inserted into the cutlery basket. While this will obviously save you a lot of time and energy, there are three things you should never do. Don't pour detergent directly onto your silverware, overload the silver polishing cassette with cutlery or load it with both silver and stainless steel wares.