Ingredients
| | | |
| --- | --- | --- |
| Vegetables: | | |
| 75g Green Asparagus | 75g Spring Onions | 75g Red And Green Peppers |
| 75g Carrots | 75g White Cabbage Or Pak Choi | 75ml Sunflower Oil |
| 50g White Turnips | 75g Zucchini | Soy Sauce |
| 50g Leeks | 50g Snow Peas | |
Methods
1. Wash and peel the asparagus, carrots and white turnips. Trim and wash the leek, spring onions, cabbage and zucchini. Wash the snow peas and trim the ends. Wash, halve and de-seed the pepper. Cut everything into fine strips of equal length (julienne).
2. Heat the oil in the wok at setting 9 for approx. 2½ minutes. When the oil is hot, turn down to setting 8 and add all vegetables. Then fry for approx. 3 minutes, stirring and turning over constantly.
3. Season to taste with soy sauce and fry at setting 8 until done.
4. Arrange on plates and serve.
Tip: You can garnish the stir-fried vegetables with shoots or shiso leaves.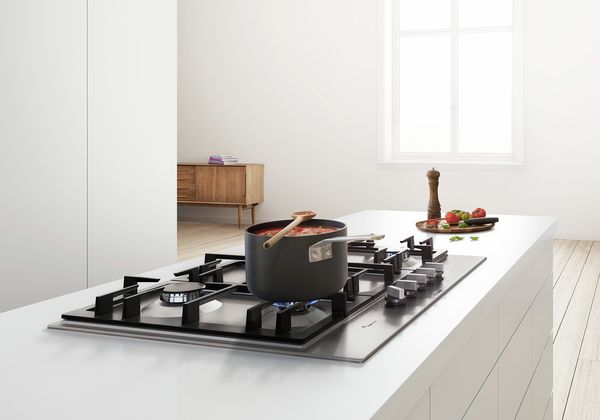 FlameSelect Gas Cooktops
The new FlameSelect gas cooktops from Bosch allow you to precisely control the flame size, from levels 9 to 1. Whether you want to melt chocolate to liquid perfection on level 1, or fry a succulent steak on level 9, you'll have all the benefits of gas cooking, combined with the precision of an electric cooktop. Thanks to FlameSelect, you can achieve perfectly consistent results each and every time.