Ingredients
| | | |
| --- | --- | --- |
| Soup: | | |
| 3 Onions - 200g | 1kg Passata | 200g Mozzarella |
| 2 Garlic Cloves | 250ml Chicken Stock - Cold | Fresh Herbs - E.g. Oregano, Basil |
| 100ml Vegetable Oil | Salt | |
| 10g Flour | Pepper | |
Methods
1. Peel and chop the onions and garlic finely.
2. Add oil to a pan and fry the onions and garlic at setting 8 for 2½ minutes. Turn down to setting 4 and fry the onions for another 7½ minutes until soft. Stir occasionally. Then sprinkle over the flour and stir constantly for approx. 1½ minutes until the mixture is thick and creamy.
3. Add the passata and chicken stock and bring to boil for 5 minutes at setting 6. Then simmer at setting 3 for another 15 minutes without the
lid, stirring occasionally.
4. Lastly, purée the soup and pass through a sieve. Season with salt and pepper to taste.
5. Serve on 4 plates and scatter torn-up pieces of mozzarella on top. Garnish with fresh herbs to taste.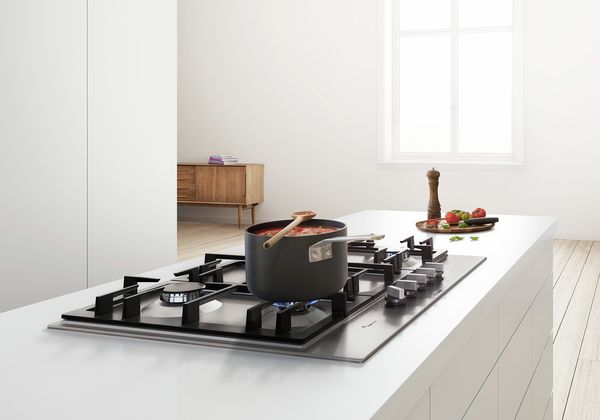 FlameSelect Gas Cooktops
The new FlameSelect gas cooktops from Bosch allow you to precisely control the flame size, from levels 9 to 1. Whether you want to melt chocolate to liquid perfection on level 1, or fry a succulent steak on level 9, you'll have all the benefits of gas cooking, combined with the precision of an electric cooktop. Thanks to FlameSelect, you can achieve perfectly consistent results each and every time.