Ingredients
| | | |
| --- | --- | --- |
| Eggplants: | | Flavoured Oil: |
| Marinating Time: 12 hours | 4 Bay Leaves | 5 Cloves Garlic |
| 600g Eggplants | 300ml White Wine Vinegar | ¼ Teaspoon Oregano |
| 150g Salt | 1 Chilli Or Cayenne Pepper | 200ml Olive Oil |
| 750ml Water | | 5 Peppercorns |
Methods
1. Wash the eggplants, peel and cut into slices 2-3cm thick. Sprinkle the slices with plenty of salt to remove the bitterness. Then cover and leave to rest for 2 hours.
2. Next, wash the eggplants well to remove the salt. Then pat dry and cut into sticks.
3. For the marinade bring water, bay leaves, vinegar and chilli to boil in a pan at setting 5 for approx. 7 minutes. Add the eggplants, turn down to setting 4 or lower and cook for 3½ minutes.
4. Cover and allow the eggplants to infuse in the marinade for 12 hours. Then drain and place in a dish.
5. For the flavoured oil peel the garlic cloves, chop finely and mix in a bowl with the oregano, oil and freshly ground peppercorns.
6. Pour the flavoured oil over the eggplants.
Tip: Serve the marinated eggplants with toasted bread.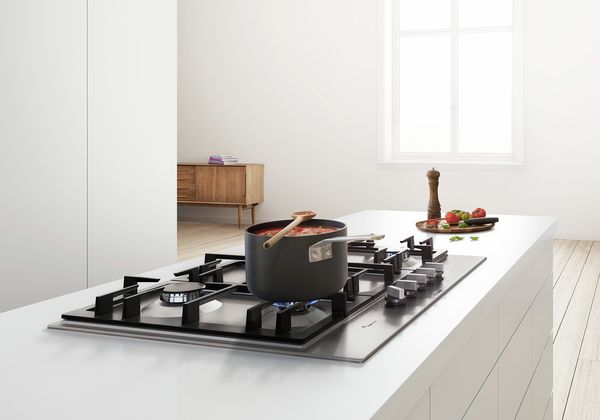 FlameSelect Gas Cooktops
The new FlameSelect gas cooktops from Bosch allow you to precisely control the flame size, from levels 9 to 1. Whether you want to melt chocolate to liquid perfection on level 1, or fry a succulent steak on level 9, you'll have all the benefits of gas cooking, combined with the precision of an electric cooktop. Thanks to FlameSelect, you can achieve perfectly consistent results each and every time.