Ingredients
Chilling Time: 5 - 7 hours
100g White Sugar
100ml Vegetable Oil
In Addition:
½ Organic Lemon
1 Cinnamon Stick
8 Eggs
Brown Sugar
500ml Milk
240g Brioche Buns -
From The Day Before
Ground Cinnamon
250ml Cream
4 Scoops Ice Cream
Methods
1. Wash the lemon in hot water and grate the zest of half of it. Do not grate off the bitter white layer underneath.
2. Heat the milk, cream, sugar, lemon zest and cinnamon stick in a saucepan at setting 9 for approx. 4 minutes. As soon as the mixture starts to boil, turn down to setting 1, stir and allow to infuse for 5 minutes.
3. Then pour through a sieve and leave to cool at room temperature for 1 hour. Then chill for 4-6 hours in the refrigerator.
4. Cut the buns into eight pieces 6 x 6cm in size and 2.5cm thick. Place in the cooled milk mixture. Cover and leave to rest for around 30 minutes so the pieces of brioche fully absorb the liquid.
5. Cover a large plate with kitchen towel and put out ready for use.
6. Heat the oil in a frying pan at setting 9 for approx. 2½ minutes. In the meantime whisk the eggs and dunk the first pieces of the brioche in the egg one by one.
7. Then fry the pieces golden brown on both sides at setting 8 for approx. ½ minute. Leave to drain in the plate put ready.
8. Sprinkle with brown sugar and cinnamon to taste and serve with a scoop of ice cream.
Tip: Scoop any bits of egg out of the oil before you fry the next pieces of brioche.
You can replace the cinnamon with vanilla, and the lemon with another citrus fruit.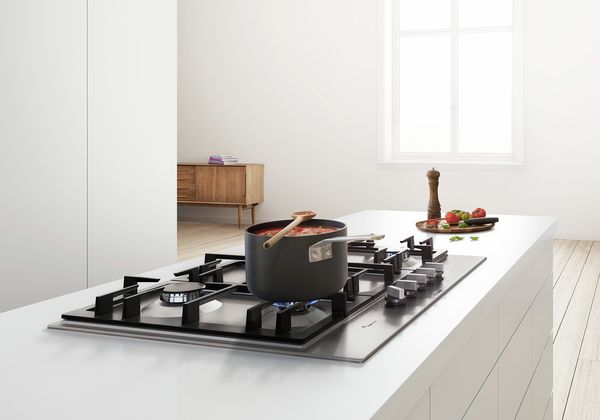 FlameSelect Gas Cooktops
The new FlameSelect gas cooktops from Bosch allow you to precisely control the flame size, from levels 9 to 1. Whether you want to melt chocolate to liquid perfection on level 1, or fry a succulent steak on level 9, you'll have all the benefits of gas cooking, combined with the precision of an electric cooktop. Thanks to FlameSelect, you can achieve perfectly consistent results each and every time.