Ingredients
| | | |
| --- | --- | --- |
| Risotto: | | In Addition: |
| 40g Butter | 100ml White Wine | 50g Button Mushrooms |
| 1 Onion - Chopped - Approx. 100g | 800ml Chicken Stock - Hot | Salt |
| 250g Arborio Rice | 60g Parmesan - Grated | |
| 12 Saffron Threads | 50g Serrano Ham - In Fine Strips | |
| | Pepper | |
Methods
1. Add the butter and onions to the pan and fry at setting 6 until soft, stirring constantly.
2. Add the rice and continue stirring for approx. 1 minute.
3. Add the saffron and white wine and cook for another 2 minutes until the wine has boiled down.
4. Add 400ml hot chicken stock and simmer at setting 2 until the stock has boiled down. Stir occasionally.
5. Add the rest of the hot chicken stock and cook until the stock has boiled down and is done. Stir while cooking.
6. Take the pan off the hob. Add grated Parmesan, strips of ham and pepper and stir well to mix the cheese with the risotto. Leave to rest for 3 minutes.
7. Slice the button mushrooms.
8. Season the risotto with salt, serve on 4 plates and garnish with slices of mushroom.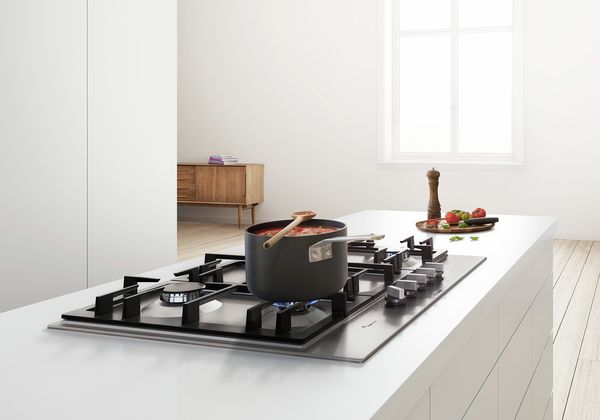 FlameSelect Gas Cooktops
The new FlameSelect gas cooktops from Bosch allow you to precisely control the flame size, from levels 9 to 1. Whether you want to melt chocolate to liquid perfection on level 1, or fry a succulent steak on level 9, you'll have all the benefits of gas cooking, combined with the precision of an electric cooktop. Thanks to FlameSelect, you can achieve perfectly consistent results each and every time.