Ingredients
| | | | |
| --- | --- | --- | --- |
| Meat: | Vegetables: | | |
| 1 Tablespoon Vegetable Oil | 100g Small Potatoes | 50g Green Beans | 30g Sugar |
| 1kg Ribeye Beef Steak | 4 Baby Carrots | 50g Spring Onions | Salt |
| | 50g Green Asparagus | 50g Zucchini | |
| | 1 Small Radish | 40g Butter | |
Methods
1. Rinse the meat briefly in cold water and pat dry with kitchen towel.
2. Heat the oil in a frying pan at setting 7 for approx. 5 minutes. When the oil is hot enough, turn down to setting 5 and fry the meat on all sides. Cook gently in the oven at 100-120 °C for approx. 2 1/2 (2 and a half) hours. Turn several times while cooking.
3. Trim and wash the vegetables. Cut the ends off the green beans and asparagus. Cut the spring onions and radish into strips. Make the potatoes and zucchini into decorative shapes.
4. Heat the butter and sugar in a pan at setting 6 for approx. 2 minutes until the sugar has melted. Add the vegetables and spread out over the bottom of the pan. Just cover the vegetables with water. Simmer for 2-3 minutes, stirring in the meantime. Cover and heat at setting 5 for approx. 9 minutes. Then season with salt and fry lightly until the liquid has evaporated.
5. Season the ribeye steak with salt and cut into slices. Arrange with the vegetables on four plates and serve hot.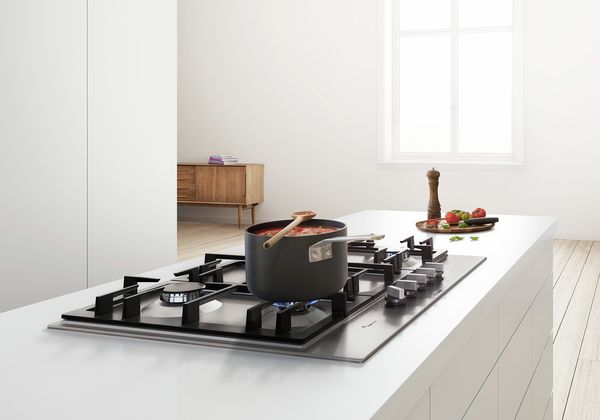 FlameSelect Gas Cooktops
The new FlameSelect gas cooktops from Bosch allow you to precisely control the flame size, from levels 9 to 1. Whether you want to melt chocolate to liquid perfection on level 1, or fry a succulent steak on level 9, you'll have all the benefits of gas cooking, combined with the precision of an electric cooktop. Thanks to FlameSelect, you can achieve perfectly consistent results each and every time.