Ingredients
| | | | |
| --- | --- | --- | --- |
| Pasta: | Sauce: | | |
| 2L Water | 3 Cloves Garlic | 80g Black Olives | Sugar |
| Salt | 4 Tablespoons Vegetable Oil | 600g Tinned Chopped Tomatoes | Pepper |
| 400g Penne Rigate | 1 Teaspoon Oregano | 3 Dried Chillies | Basil Leaves |
| | 2 Teaspoons Parsley - Chopped | 20g Capers | |
| | 12 Anchovy Fillets In Oil | Salt | |
Methods
1. Add water and salt to a pan, cover and bring to the boil at setting 9 for approx. 10 minutes. Turn down to setting 8 and cook the pasta without the lid until al dente. Drain the water and place the pasta to one side.
2. Peel and finely chop the garlic. Heat the oil in a pan at setting 4 for approx. 2 minutes and add the garlic. Before the garlic becomes brown, after approx. ½ minute, add the oregano and chopped parsley. Then stir for approx. ½ minute to release the aromas.
3. Chop the anchovies. Add with the oil, crush with a spoon and stir for 1 minute.
4. Chop the olives. Also add the chopped tomatoes with the juice, olives, chillies and capers. Cover the sauce and simmer for approx. 18 minutes. Stir occasionally.
5. Season the sauce with salt, sugar and pepper to taste. Mix the pasta with the sauce and serve garnished with a basil leaf.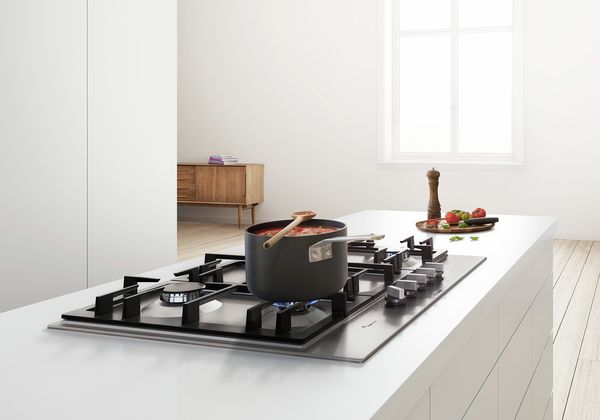 FlameSelect Gas Cooktops
The new FlameSelect gas cooktops from Bosch allow you to precisely control the flame size, from levels 9 to 1. Whether you want to melt chocolate to liquid perfection on level 1, or fry a succulent steak on level 9, you'll have all the benefits of gas cooking, combined with the precision of an electric cooktop. Thanks to FlameSelect, you can achieve perfectly consistent results each and every time.