Ingredients
| | | |
| --- | --- | --- |
| Meat: | 500g Minced Lamb | Dressing: |
| Chilling time: 3 hours | 2 Eggs | 250g Greek Yoghurt |
| 250g Spring Onions | Salt | 5 Mint Leaves |
| 1 Clove Garlic | Pepper | 1 Generous Pinch Chopped Garlic |
| 115ml Vegetable Oil | 100g Chickpea Flour | Lemon Juice |
Methods
1. Trim and wash the spring onions. Peel the garlic clove. Chop both finely. Place a generous pinch of garlic to one side for the dressing.
2. Heat 15ml oil in a pan with the spring onions and garlic at setting 6 for approx. 8 minutes. Then leave to cool.
3. Combine the minced lamb with the eggs, salt, pepper and the cooled onion/garlic to produce a smooth mixture. Cover and leave to rest in the refrigerator for 3 hours.
4. Make meatballs weighing 40g and turn in chickpea flour.
5. Heat the rest of the oil in a frying pan at setting 6 for approx. 5 minutes until the oil is hot enough.
6. Turn down the hotplate to setting 4. Fry half of the meatballs for approx. 4 minutes, turn and fry for around another 4 minutes until they are done. Leave to drain on kitchen towel. Fry the rest of the meatballs the same way.
7. Rinse the mint, shake dry and then chop finely. Mix the yoghurt, mint and garlic together and season with lemon juice.
8. Serve the meatballs with the yoghurt dressing. Garnish the meatballs with shoots.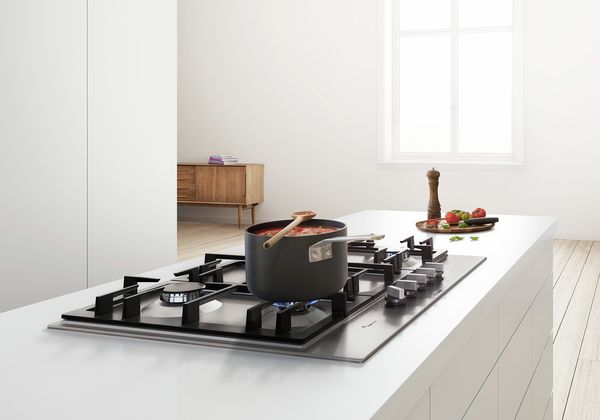 FlameSelect Gas Cooktops
The new FlameSelect gas cooktops from Bosch allow you to precisely control the flame size, from levels 9 to 1. Whether you want to melt chocolate to liquid perfection on level 1, or fry a succulent steak on level 9, you'll have all the benefits of gas cooking, combined with the precision of an electric cooktop. Thanks to FlameSelect, you can achieve perfectly consistent results each and every time.