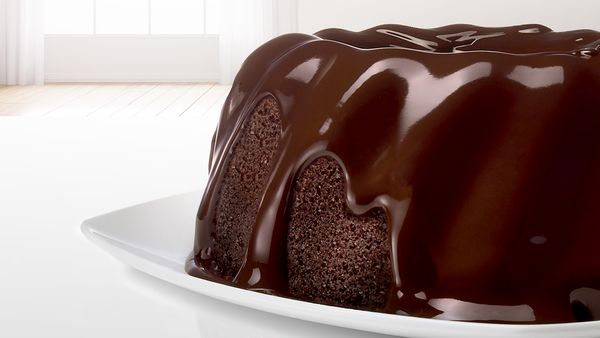 Become a master baker – at the touch of a button.
Baking has never been easier, thanks to the unique PerfectBake™ sensor. This function constantly measures the precise moisture level of your dishes and automatically adjusts the entire baking process, which means you'll never have to set the heating mode, length of time or temperature ever again. Simply choose the type of dish, such as 'Cake in Tin', press start and let your Bosch oven bake your cake to perfection.
Perfect roast on the fly.
Achieve the perfect roast lamb, Christmas turkey, stuffed meats and fish. The PerfectRoast meat probe features three sensitive measuring points and uses the lowest temperature reading to determine the core temperature before calculating the residual cooking time. The results are simply perfect. Used manually or with Bosch Assist, you can modify the suggested core temperature (within a recommended range) and combine with microwave and steam cooking functions.
The first recipe collection in the form of an oven.
You could easily search through cookbooks and family recipes without ever finding the exact temperature or cooking time for that favourite dish. Thanks to Bosch Assist, you don't have to. The advanced sensor technology found in PerfectRoast and PerfectBake™ - combined with the functionality of automatic programs as we know them today - offers an extensive menu of food categories that help create your perfect meal. Simply select the desired dish, press start and your oven automatically sets the ideal heating mode, temperature and length of time, monitoring and modifying the cooking as required for the best results.
Perfection on every level.
Thanks to 4D HotAir, you can place your food on any shelf from level one to four, and the results will be consistently perfect. The rotating fan alternates its direction during cooking to distribute heat evenly on every level. And for reliable results 'top to bottom', you can also bake and roast on up to four different levels simultaneously.
Add a touch of steam.
Enhance your cooking results by adding a little bit of moisture from time to time, thanks to the added steam function. Whether you're reheating dishes, proving dough, baking or roasting, you can set the oven to automatically add bursts of steam, or you can add steam manually to regulate the intensity. Create succulent roasts and perfectly browned bread crusts with ease. Added steam works with: 4D HotAir, Hot air grilling, Top and bottom heating and Keep warm.
First we taught it how to bake. And then how to clean up afterwards.
Anyone who has ever cleaned an oven by hand knows it can be exhausting and time-consuming. Thanks to the new EcoClean Direct and pyrolytic self-cleaning function on our Series 8 ovens, manual cleaning is a thing of the past. At the touch of a button, the self-cleaning pyrolytic program reduces residual food to ash, leaving your oven sparkling clean.
Fits every kitchen. And every need.
The new Series 8 ovens not only deliver superior performance with amazing convenience, they are also beautifully crafted with sophisticated design that extends to the smallest detail. The panel heights and display designs for all Series 8 products are consistent across the entire range, so you can match your oven with other Series 8 appliances with complete design harmony. The elegant stainless steel strip at the base of each Series 8 60cm oven creates a uniform look when installed side-by-side with any compact appliance and complementing warming drawer.