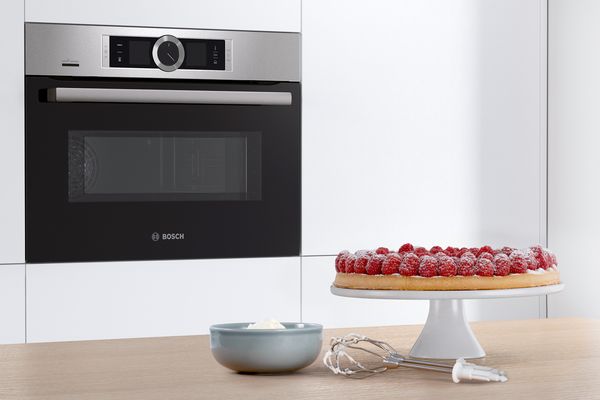 Be on the same wavelength with any meal.
Our Series 8 combination microwave ovens allow you to heat, defrost, roast or grill anything, thanks to 1000 watts and five power levels. The AutoPilot program helps achieve the best possible results with very little effort. Just insert your roast, enter its weight and select the desired program from the menu. With Bosch Assist on our premium model, press start and the oven takes care of the rest, monitoring and modifying the cooking method as required for best results. Bosch Assist works in combination with the unique PerfectBake™ sensor and PerfectRoast meat probe for perfect cooking and baking results.
Fits every kitchen. And every need.
The new Series 8 ovens not only deliver superior performance with amazing convenience, they are also beautifully crafted with sophisticated design that extends to the smallest detail. The panel heights and display designs for all Series 8 products are consistent across the entire range, so you can match your oven with other Series 8 appliances with complete design harmony. The elegant stainless steel strip at the base of each Series 8 60cm oven creates a uniform look when installed side-by-side with any compact appliance and complementing warming drawer.