Ingredients
Mousse


Chilling time: 4–7 hours
3 egg yolks
40g sugar
2 sheets gelatine
300ml cream
100g mascarpone

Strawberries


500g strawberries
washed and trimmed
60g brown sugar
50g butter
1 tsp balsamic vinegar
Mint leaves
Step 1.
Mix the egg yolk and sugar in a bowl with the whisk. Soak the gelatine thoroughly in cold water.
Step 2.
Bring the cream to the boil in a pan at setting 9. Switch the cooktop off and stir in the egg-sugar mixture until entirely smooth. Squeeze out the gelatine and add to the cream. Stir the mascarpone in with the whisk. Leave the mousse to cool at room temperature for 1 hour. Then chill for 4–6 hours in the refrigerator.
Step 3.
Wash the strawberries, pat dry and cut into halves.
Step 4.
Heat the brown sugar in a pan at setting 6 for approximately 3 minutes, stirring occasionally. At the same setting add flakes of butter and balsamic vinegar within ½ minute, stirring constantly. Then add the strawberries and heat for approximately 2 minutes at setting 8. Stir occasionally.
Step 5.
Layer the mousse and strawberries in serving glasses and garnish with fresh strawberries and mint leaves.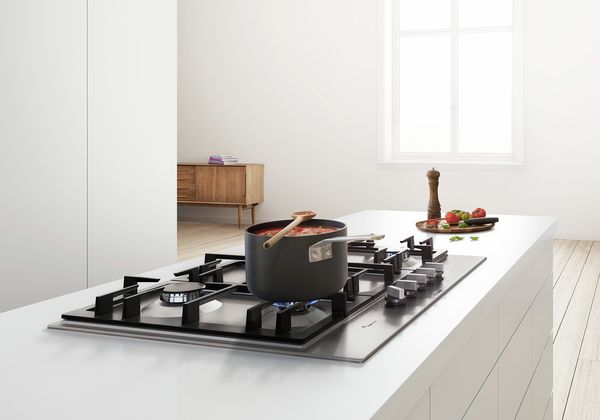 Gas Cooktops with FlameSelect Technology
The new Gas cooktops with FlameSelect and its innovative valve technology lets you precisely control the flame in 9 power levels. Now you can achieve perfectly consistent results each and every time.